Resource Spotlight: Student Developed Language Acquisition Guide
Posted in News Story | Tagged Language Learning, Student Resources
From unique academic opportunities and enriching cultural experiences, to increased independence and professional connections, study abroad helps students reach their goals. One of the most common goals students have for a study abroad experience is improving their language skills, whether they are starting at the beginner level or are already advanced and hoping to reach greater proficiency in daily life and in the classroom.
The Office of Global Education (OGE) is committed to providing programs and tools to help students achieve their language learning goals. In the past, OGE has hosted a workshop entitled "Making the Most of Your Language Learning Abroad" aimed at helping students make the most of their programs to work on their language skills while abroad. OGE is introducing a student-developed guide aimed at complementing this programming and helping students navigate the program search and pre-departure process with these kinds of goals in mind.
"How to Maximize Language Gains During Study Abroad" Guide
The Language Gains Abroad Guide, developed and written by Annie Lubin (COL '23) is designed to be used by students who are researching study abroad programs as well as those who are preparing to study abroad. It includes key considerations for goal setting and achieving, including questions for students to consider about the nature of their program as well as their own abilities, thus resulting in a student-informed approach to selecting a program and preparing to go abroad.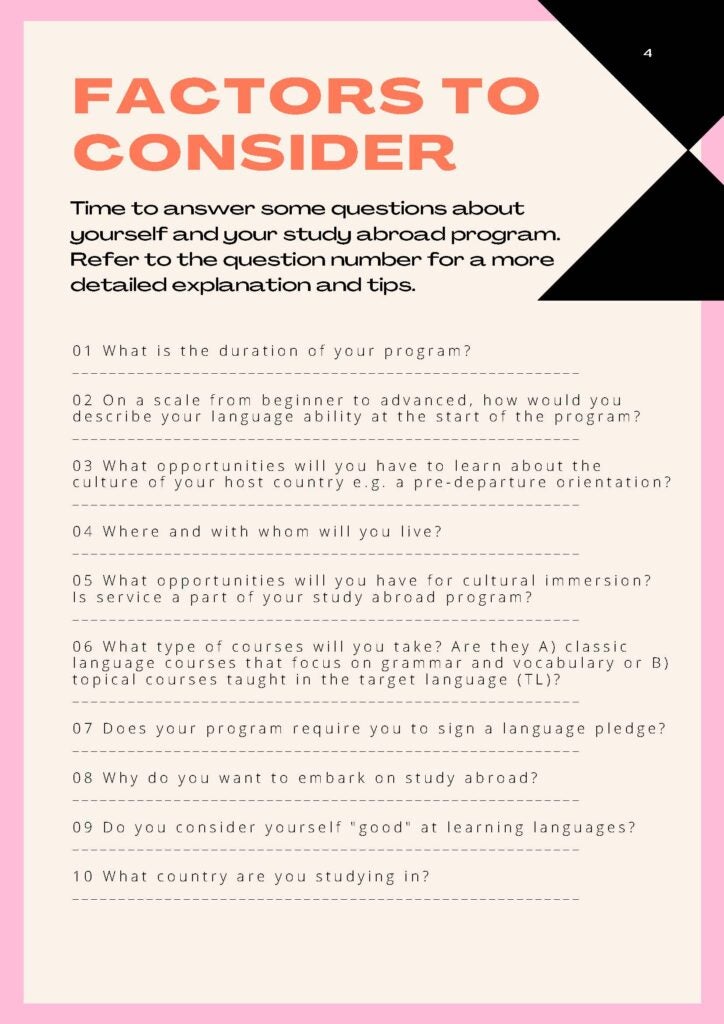 Students who are in the program search phase can use the Language Gains Abroad Guide to consider what program features would be most useful to them. For example, Annie describes considerations for program duration and type, language and cultural orientations, housing situations, cultural immersion programs, and language pledges. Students can read about these program features on individual program brochures in the OGE application search, and can also discuss their preferences with OGE staff when they attend Study Abroad 101 or meet with an individual advisor.
In the Advanced Application Search, potential applicants can search by target language, program types such as "Direct Matriculation" that are mentioned in the guide, and by immersive opportunities such as homestays.
Annie, who developed this handbook as part of her coursework for the Linguistics class "How Languages are Learned," was tasked with presenting research on language acquisition in an alternate mode to a formal research paper that could be used by "stakeholders outside the classroom." Since Annie herself was preparing to study abroad, she created a guide with students like herself and her peers in mind. She explains, "I was already planning on studying abroad, and I decided to focus on that. It was also a way for me to focus on what I wanted out of study abroad."
This resource is both practical and backed by research, so readers will find steps they can take as well as reasons why those steps are effective.
In addition to program features, the guide also touches on the effects that personal identity and host country can have on language acquisition. Students searching for specific resources focused on personal identities and study abroad can consult the Hoya Identities Abroad page of OGE's website to further explore the intersection of identity with an international experience.
Looking ahead to her own study abroad experience in Seoul for Spring 2022, Annie Lubin reflects on her own goals: "Korean is a really interesting language. I've never studied it before, and I'm not attempting to be fluent but rather trying to maximize language learning and gain a deeper understanding of culture. I've never lived abroad for an extended period of time but I'm excited for this, especially to develop independence and experience personal growth while navigating myself."