Meet the Peer Advisors
Peer Advisors are members of the OGE student staff team who help answer initial questions, direct students to resources, and provide advice on the application process for study abroad. They serve as peer mentors on the process of choosing and applying to a study abroad program. They are available to give you advice on every aspect of the study abroad experience.
How to Reach a Peer Advisor
You can also contact our OGE peer advisors via email at globaleducation@georgetown.edu or meet them at upcoming Study Abroad 101 events.
Current Peer Advisors
Nell DiPasquantonio
Year: Senior
Class: COL '23
Majors: Art History and Classical Studies; Minor: Linguistics
Global Interests + Experiences: Nell studied abroad during her Junior fall at the University of Edinburgh in Scotland. She also studied in Toulouse, France while in high school doing a French language immersion, and has worked on an archaeological dig in the Alentejo region of Portugal.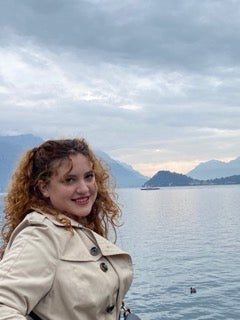 Isa Castellanos Velasco
Year: Senior
Class: SFS '23
Major: Global Business; Minor: Justice and Peace Studies
Global Interests + Experiences: Isa studied abroad her sophomore year of high school in Florence, Italy and had initially planned on studying abroad at Sciences Po Paris. Isa also spends a significant amount of time in Mexico every summer.