Virtual Hoyas Abroad Fair
Posted in Event Announcement News Story
September 8-11, 2020…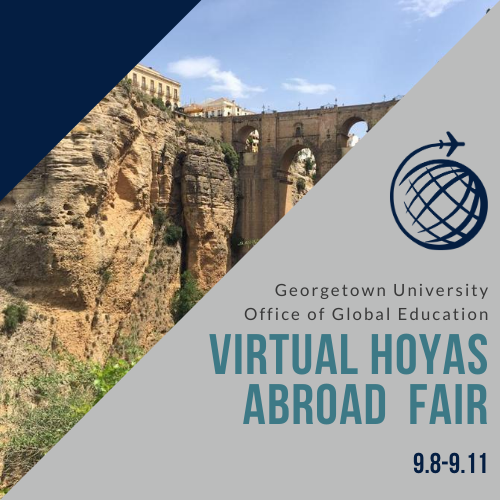 The Office of Global Education at Georgetown University is hosting the Virtual Hoyas Abroad Fair showcasing study abroad opportunities for undergraduates:
Tue-Thu September 8-10

Presentations with Global Education advisors. Presentations will be followed by time for Q&A. Please press the following to join:

Zoom link to join presentation session
Fri September 11 A virtual fair hosted on Zoom. Visit breakout rooms for specific regions or ask general questions about study abroad at Georgetown. Zoom link to be posted on Friday.
If you would like to learn more about specific programs, visit our Program Discovery. If you would like information on how to begin your study abroad journey, look at our Steps to Study Abroad.
Regional Presentations
Zoom login will be posted the morning of the event
RSVP using the links in the table below to receive a reminder and to let us know you are planning to attend:
Presentations will be recorded and available for viewing approximately two weeks after the event.
Virtual Fair
On Friday 9/11, meet with advisors at our Virtual Fair. The fair is divided into two time blocks.
The Zoom link for the requested regional advisor here will direct you first into a waiting room, and then into a breakout room with the respective advisor. If you would like to talk to multiple advisors, you can leave the breakout room and wait to be reassigned to another advisor.
RSVP using the links below to receive a reminder and to let us know you are planning to attend.
Please note that these are not appointments – we can only answer general questions relating to the regions and programs at this event. Click the following link text to make an appointment with an advisor.
If you'd like to see a list of videos our partners sent us to showcase their programs, please see our country sorted list. (Please note that this does not contain all programs that we offer, and nor do we approve of every program that a provider has to offer. Please speak with your regional advisor about any specific programs and if Georgetown supports them.)
Click the following link text for videos from our partners