Student Spotlight: Benjamin A. Gilman Scholar Recipient Emma Woodruff (SFS'21)
Posted in News Story
---
Hear from Emma about how the Gilman Scholarship shaped her study abroad experience
---
February 3, 2020 –
The Office of Global Education is pleased to feature Emma Woodruff (SFS'21) and have her share her experience as a Gilman Scholar Recipient. Read more below to find out how you can apply to the scholarship, its benefits, and how it will amplify your study abroad experience.
What is the Gilman Scholarship?
The Benjamin A. Gilman Scholarship is a grant program that supports undergraduate students who are Pell Grant recipients and are seeking to study abroad. In short, it bridges the gap in access to study abroad and makes studying abroad attainable for students of all socio-economic backgrounds.
How can I apply?
Emma shares that the Georgetown Office of Fellowships, Awards, and Resources (GOFAR) (new window) reached out and informed her of the Gilman Scholarship since she is a Pell Grant Recipient before she studied abroad. That said, in order to be considered for the grant, you must be an undergraduate student interested in studying abroad and be a Federal Pell Grant recipient. You must also consider a study abroad location approved by the U.S. State Department that is more than three weeks in length. After this, you complete an application which Emma said included two essays, an online study abroad advisor certification, an online financial aid certification, and a transcript.
Read about Emma's Experience in Lyon, France.
Emma's study abroad experience was made possible by the Gilman Scholarship and she shares her gratitude and appreciation for the unforgettable experience. She had the opportunity to study abroad in Lyon, France and immerse herself in the French language and culture. Academically, Emma directly matriculated to Sciences Po Lyon and took courses in French that satisfied requirements in both her Regional and Comparative Studies major and her French minor. Emma reflected on her experience and shared her thoughts with the OGE, "Beyond academics, Lyon is a beautiful, large city built around two rivers; I was lucky enough to live with a host family whose apartment looked out at the shining Saône River. I cherish my memories in Lyon, even when communicating in a second language proved challenging." Overall, the Gilman Scholarship made Emma's experience possible by significantly lowering the financial barrier to study abroad. Emma also received a scholarship through the Office of Global Education which she put towards other costs associated with transportation and day-to-day expenses.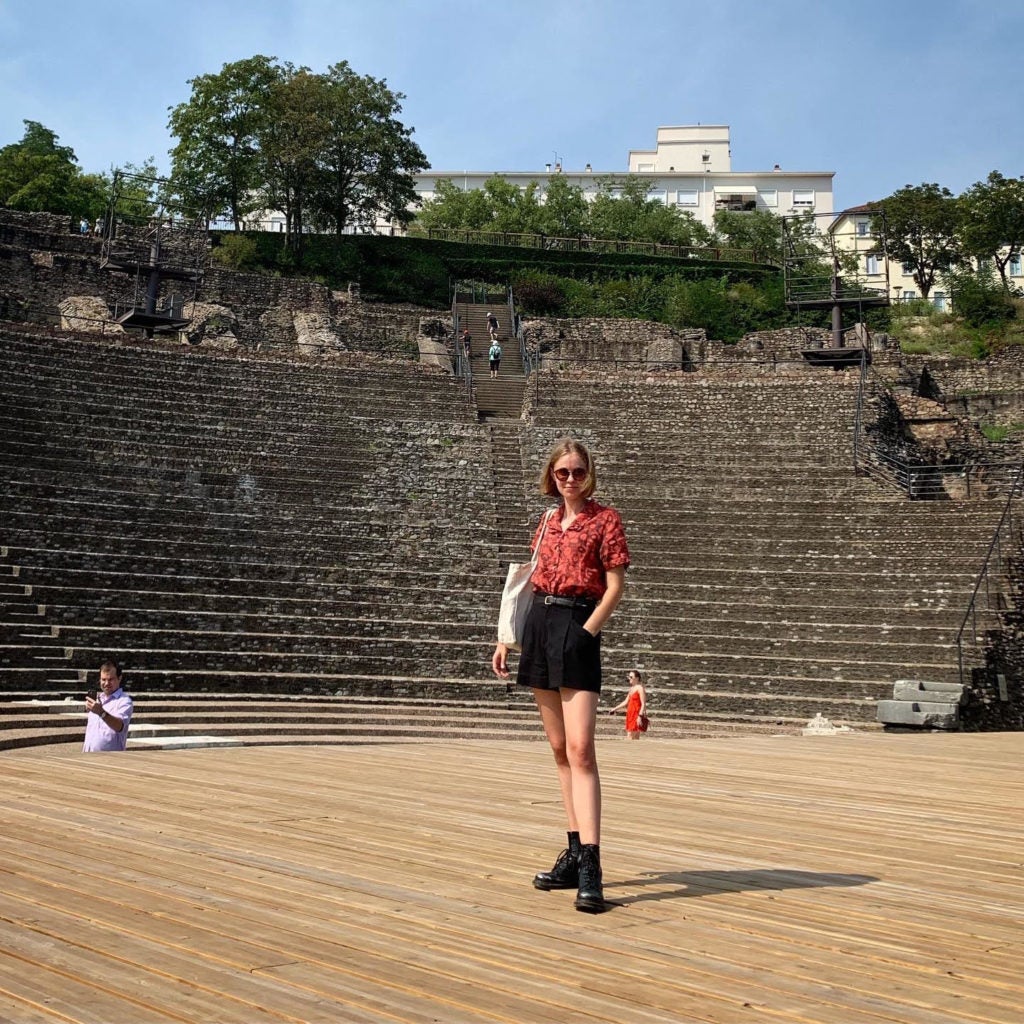 Upon returning to the United States, Emma is in charge of leading a project to inform students about the scholarship. That said, if you are interested in the Gilman Scholarship please contact the OGE to contact and speak with Emma.
Study abroad is an indispensable experience that is attainable regardless of financial background. To learn more about how study abroad can be possible for you, read about funding study abroad (new window) or talk with an advisor of GOFAR (new window).

The deadline for the next application cycle is March 3, 2020