Yes, you CAN Study Abroad as a STEM Student
Posted in News Story
Georgetown study abroad alumni reflect on their semester study abroad experiences on OGE's Stories Beyond the Hilltop blog
October 1, 2019 – If you are a student majoring in science, health, or mathematics, you may have heard rumors that study abroad is not compatible with your chosen field of study. Recent study abroad alumni and the Office of Global Education (OGE) have come together to reassure you that in fact you can study abroad, take courses toward your STEM degree, and remain on track to achieve your academic goals. STEM study abroad alumni, Lilia Darrow COL'20 and Sean Melville COL'20, testify to being able to study STEM while abroad. "It just takes some planning," says Lilia in her blog "Study Abroad as a STEM Major" and "I recommend studying abroad to anyone, but especially to other STEM students," Sean attests in his blog "STEM: Study Abroad in Belfast".
OGE offers a wide array of academic programs in numerous countries that satisfy requirements for biology, chemistry, math, computer science, physics, and more. Read more about our students and their recent semester abroad experiences in STEM.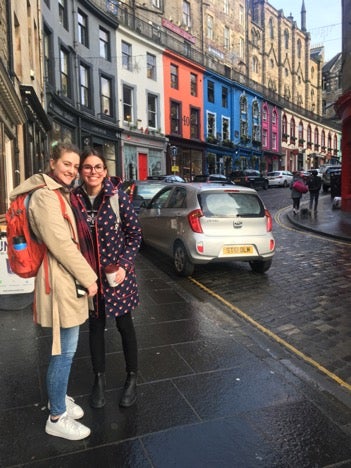 Lilia Darrow COL'20 studied abroad at the University of St. Andrews in Scotland, and attests to being able to complete coursework for her major as well as core requirements. She also explains that she was able to access courses in her major that Georgetown does not currently offer. Lilia comments, "I took an Invertebrate Zoology course while at the University of St Andrews, which is not offered at Georgetown, and allowed me to pursue an entirely new field of Biology." Beyond the classroom, Lilia befriended students from different parts of the world who were all interested in biology, helping her to see her field from new perspectives.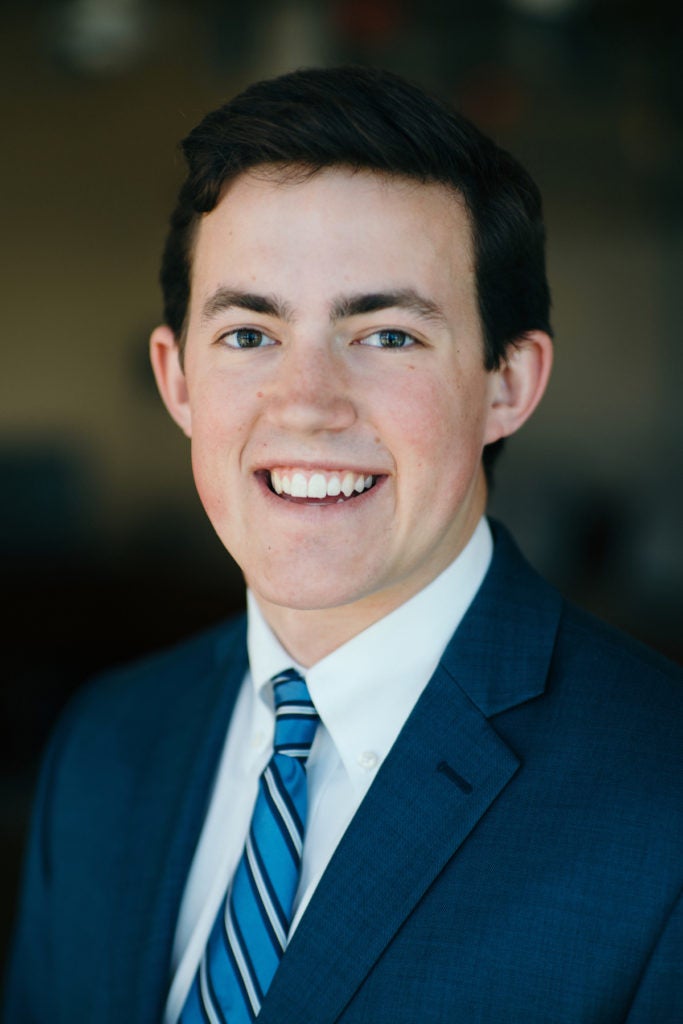 Sean Melville COL'20 spent a semester directly matriculating at Queens University in Belfast, Northern Ireland. As a student pursuing mathematics and economics, Sean took two economics classes and one mathematics course, directly satisfying requirements for his degree. A course entitled Numerical Analysis ended up being his favorite class, as well as a key component in making his study abroad experience eye-opening and rewarding. He shares that while taking this class he was able to apply the math he learned to real life events and scenarios to create a truly holistic experience. From these experiences, Sean explains that, "This further reinforced our knowledge base and helped my technical STEM skills."
OGE offers many semester and full year programs that can satisfy the needs of students majoring or minoring in STEM degrees.
Program offerings range from direct matriculation programs in comprehensive universities to specialized, topical programs, as well as programs that offer STEM coursework in a second language. At Queen's University Belfast, Northern Ireland, you can enroll alongside local students, while in the Community Public Health in Gaborone, Botswana (CIEE) program, you can combine direct matriculation coursework with fieldwork in public health. In addition to geographic diversity, study abroad programs can offer opportunities related to specific interests with your major field specific interests. DIS – Study Abroad in Scandinavia in Copenhagen, Denmark offers coursework focusing on biomedicine, neurobiology, or computer science, and participants on the Language and Area Studies in Freiburg, Germany (IES) program can take coursework on environmental biology taught in German.
---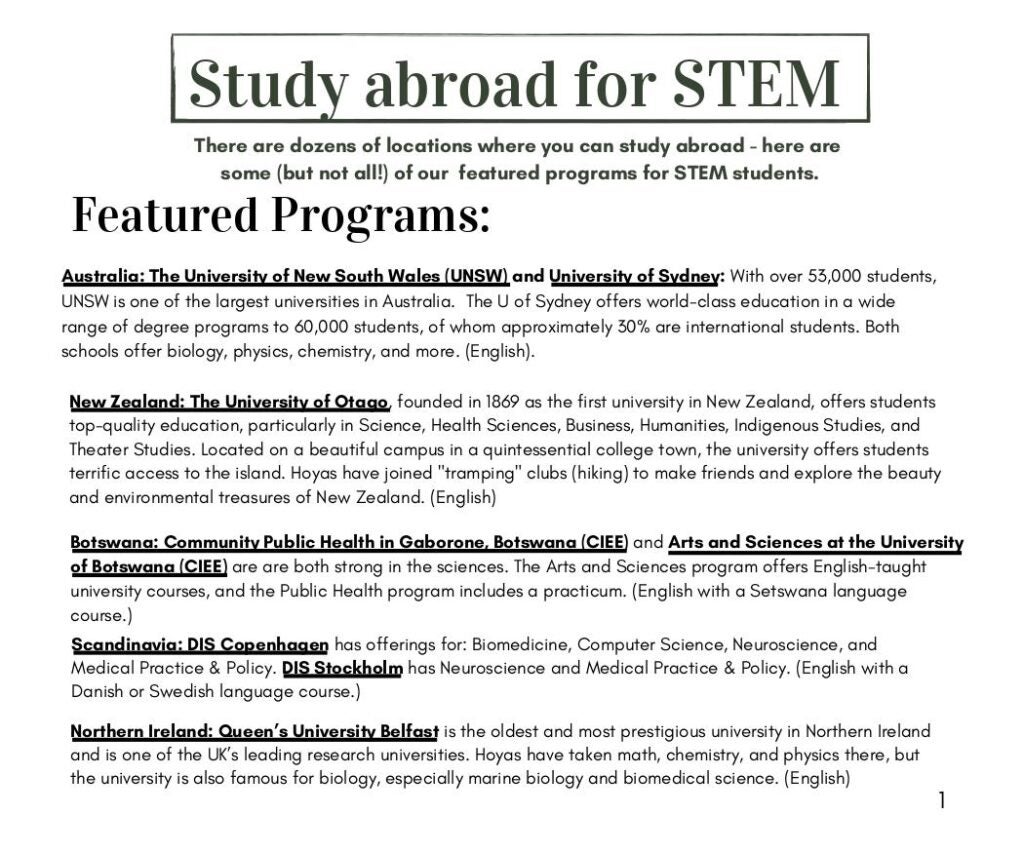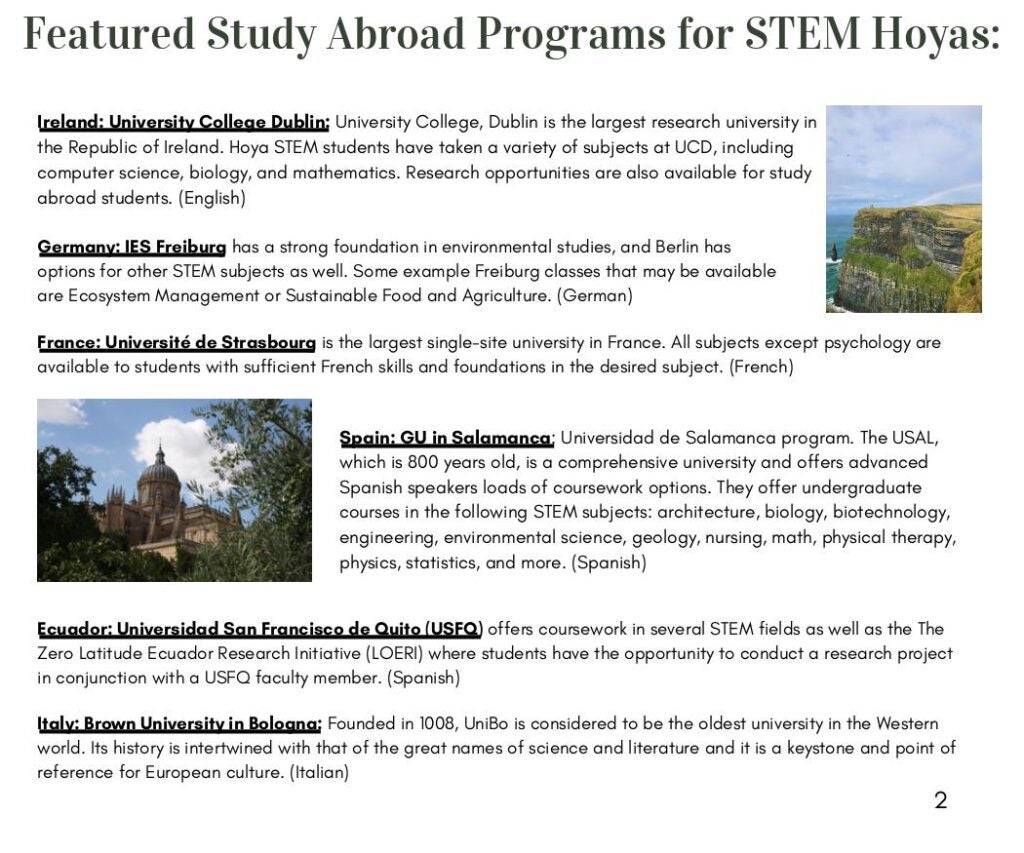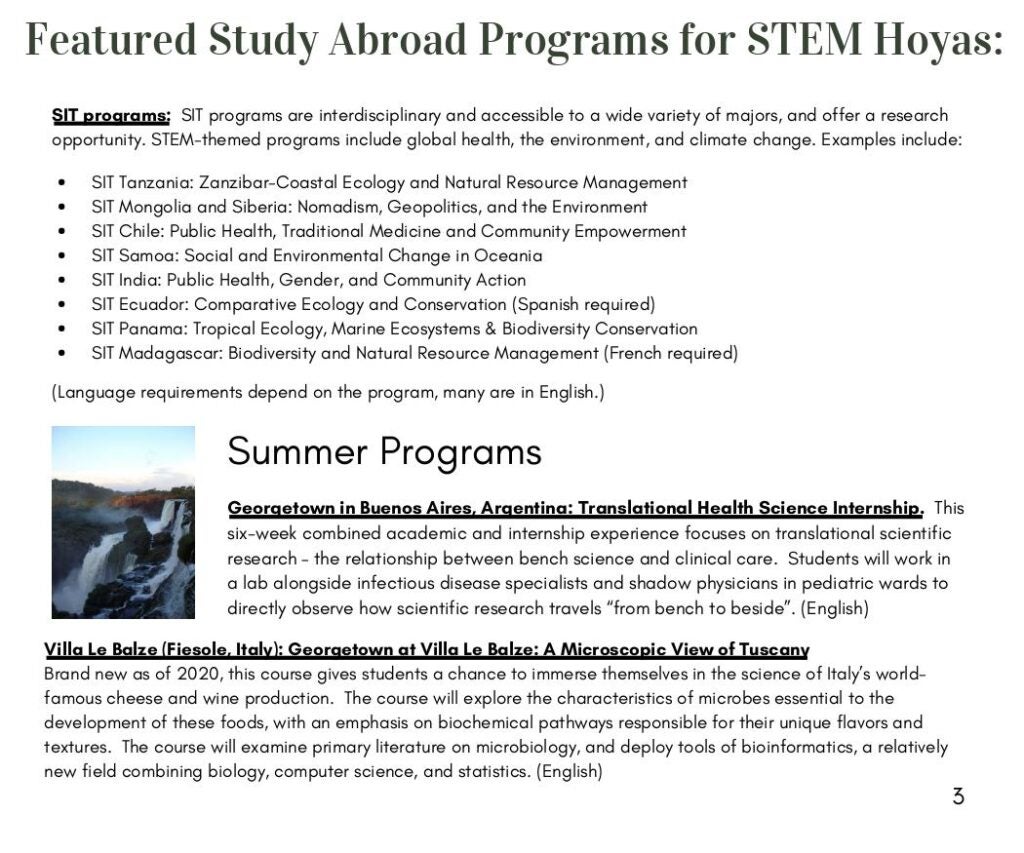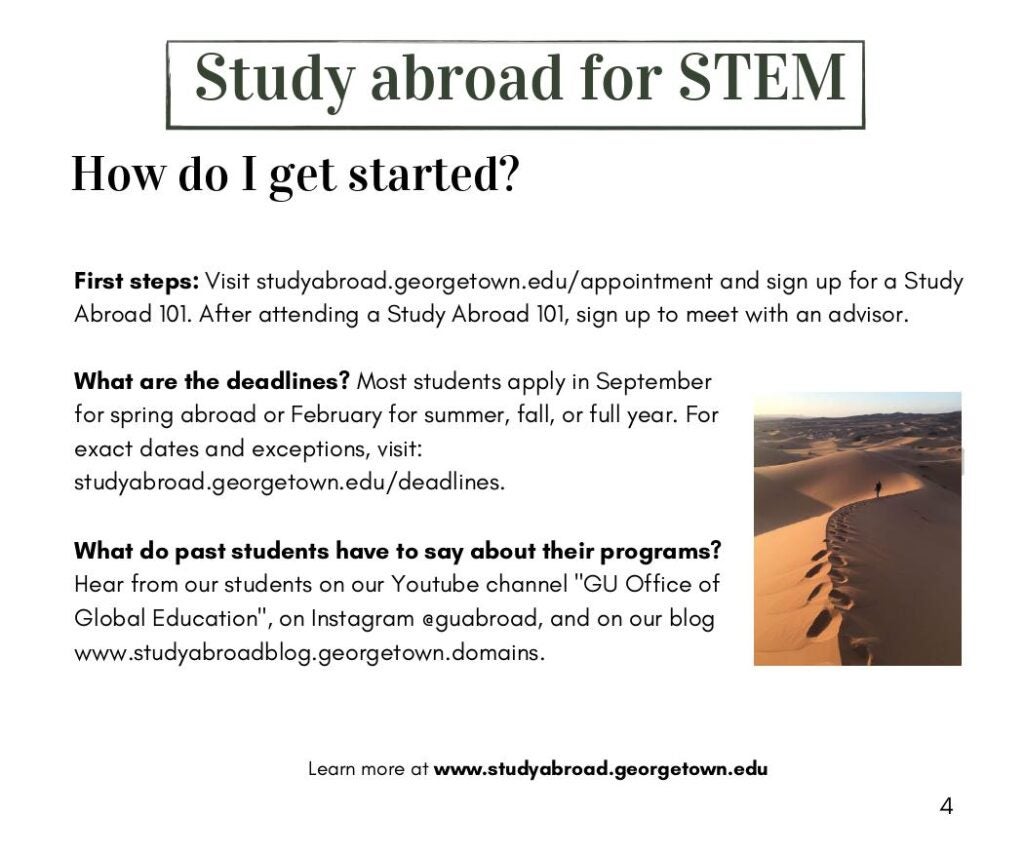 Stay up-to-date with our current study abroad students and alumni on our Stories Beyond the Hilltop Blog. To find out more about what study abroad program is right for you, you can attend a Study Abroad 101 presentation, search for a program online on the Office of Global Education's web page, or schedule an appointment to meet with an OGE advisor.