Six Ways to Go Abroad as a Postgrad
Posted in News Story
Because of restrictions related to the ongoing COVID-19 pandemic, students worldwide have missed out on certain aspects of the college experience and have had to adapt to new ways of learning. Many Georgetown students' original study abroad plans may have been interrupted during Fall 2020 or cancelled in subsequent terms. As vaccines are rolled out in more countries, restrictions on travel and visas will hopefully begin to open up. Whether your study abroad plans were impacted by COVID-19, you missed the chance during undergrad, or you just want to continue to build upon your prior experience, you may be considering alternative ways to spend time abroad after graduation or in the future. Though OGE focuses on undergraduate credit-bearing study abroad, we wanted to take this moment to point interested students in the direction of other opportunities to go abroad and the corresponding resources available to Georgetown students.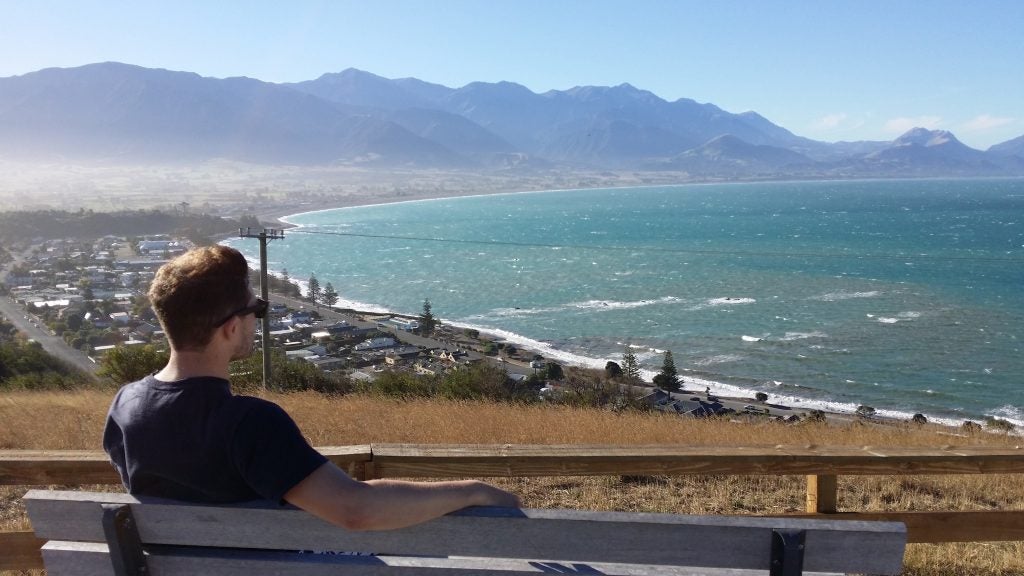 Graduate School
Study abroad as a grad student: Some graduate programs in the United States have an option to spend a semester, year, or shorter term abroad. If you're thinking about going to grad school, you may wish to include this as a consideration in your search for a program.
Earn a graduate degree abroad: You may wish to pursue your graduate degree at a university abroad. Many graduate schools in the UK, the EU, Australia, New Zealand, and Latin America are accessible to American students. Some of the universities Georgetown partners with for undergraduate study abroad also offer graduate programs; you can use the Program Explore tab on our website to find universities in countries and cities where you may be interested in studying. If you already studied abroad at a particular school, you may be particularly competitive for admission to graduate programs there or may qualify for a scholarship, but if you didn't get a chance to study abroad there are many opportunities for you. Be sure to research top programs for your academic area of interest and talk to faculty from your area of study. As an additional benefit, getting your graduate degree abroad may be less expensive, as graduate programs abroad may be completed in fewer months than programs in the United States, and international universities may not always require standardized tests like the GRE. Additionally, some overseas universities qualify for federal financial aid and loans through FAFSA. To find out which programs may qualify, visit the FAFSA website. There are also many scholarship opportunities available for students pursuing a graduate degree abroad!
Fellowships, Internships, or Research Positions
Participating in a fellowship is a valuable way to continue your education while gaining professional and/or research experience. Fellowships can also provide an opportunity to live in another place for a fixed amount of time, similar to study abroad. While not all fellowships take place abroad, there are plenty that do. To find one you're interested in, talk to Georgetown's Center for Research and Fellowships and use their site to begin your own research!
Some fellowships that take place abroad include:
The Fulbright Program
Critical Language Scholarship
Gates Cambridge Scholarship
Humanity in Action Program
Princeton in Africa, Asia, or Latin America
DAAD Fellowships and Scholarships
And more!
Teaching English Abroad
One option is to teach english as a second language in a foreign country. Through the TEFL (Teaching English as a Foreign Language) program, you can become certified to teach English as a second language. This can be a good way to live abroad while earning some money, being a part of a community, and making a meaningful impact on your host town. The TEFL website also has a job search function where you can find TEFL opportunities around the world. You can expand your job opportunities and earning power by becoming TEFL certified. Consider Georgetown's TEFL certification program at the English Language Center. CIEE, one of Georgetown's study abroad partners, offers programs for teaching English abroad that include on site support and placement assistance; CIEE participants can also add TEFL certification training to their program for an additional fee.
In addition to TEFL programs, organizations and government supported English teaching programs are excellent opportunities to teach English in another country while earning a stipend or salary. Some of these programs include: JET, TAPIF, TaLK, EPIK, and USTA Austria.
Service Opportunities
Postgraduate service is a way to volunteer abroad and serve communities in need. Participants usually commit to spend one or two years at their post, performing either a specific task or engaging in general services to aid the community. Most of these programs give volunteers a stipend for living expenses. There are many types of service opportunities – government-run, faith-based, and independent – so with some research, you will definitely be able to find one that's right for you. You can use this database of programs to find one that suits your interests.
Georgetown's Center for Social Justice has more information about these kinds of opportunities. If you're interested in doing postgrad service, set up a meeting with the CSJ to discuss opportunities based on your preferences.
Careers
If you want to live or travel internationally as a professional, talk to the Cawley Career Center to learn more about international job opportunities and find the right path for you. As you think about your goals, consider fields or industries that have locations in other countries or that may require international travel. Some companies may even offer rotation programs that include overseas placements.
Working holiday visa
Once travel and visa restrictions are lifted, an option to consider is the working holiday visa. These special temporary visas allow people under the age of 30-35 to work and travel abroad for a limited period of time. US citizens may be able to obtain working holiday visas in Singapore, South Korea, Ireland, Australia, and New Zealand. Working holiday visas usually last between 6 and 12 months, and don't require you to keep the same job the entire time, allowing you to travel around during your period of residence.
~ ~
There are many ways to live, study, or work abroad independent of an undergraduate study abroad program. Though no experience is quite the same as studying abroad, these options allow you to meet new people, gain international experience, and immerse yourself in a different culture.