SIT: Integrating Research and Study Abroad
Posted in News Story
Hoyas have long been leaders in exploring the world through study abroad, forging cross-cultural connections and developing skillsets shaping them as global citizens. Study abroad programs allow students to pursue meaningful opportunities in diverse corners of the world, with a majority of these programs relying on classroom learning at local universities. New programs offered by the Office of Global Education, however, incorporate experiential learning into the curriculum, allowing students to engage with the world in completely new and meaningful ways.
These new programs are offered through School of International Training (SIT) (new window), a degree-granting institution offering experiential learning opportunities around the world since 1932.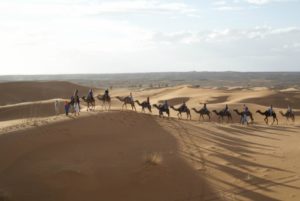 The most defining component of any SIT program is field-based research, with each student completing an Independent Study Project (ISP) that is the culmination of months of thematic classroom study and self-directed research. That is what motivated Katherine Butler-Dines, a graduated International Politics major from the class of 2017, to forgo traditional globaleducation options when studying Multiculturalism and Human Rights in Morocco with SIT. "I wanted to conduct research in Morocco on a topic I was passionate about. And it was an invaluable experience to draft a research proposal, go through an internal review board, and work with human subjects to collect data…it strengthened my research skills in a way Georgetown could not."
The same was said by senior Arista Janjee '18 who studied with SIT in India on a Public Health, Policy Advocacy, and Community-focused program. A Global Health major in the School of Foreign Service, Arista said that first-hand exposure to public health in India reinforced her interest in working in the field after graduation. "I've always been passionate when learning about global health, but seeing what it looks like on the ground solidified that this is something I want to pursue professionally." She also anticipates that SIT will strengthen her professional portfolio. "I conducted an in-depth research project and wrote a published academic paper, but also it's important for employers to know that I've seen what things look like from a first-hand perspective."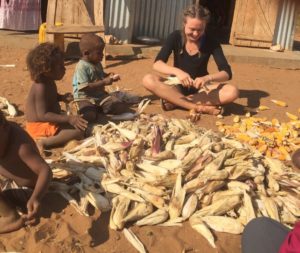 While research serves as the most defining component of any SIT program, classes and excursions also strengthen the academic experience. The importance of developing a holistic understanding of the topic was supported by Anashua Dutta '17. An International Politics major, Anashua studied Migration and Transnational Identity in Morocco with SIT in 2015. "Students take classes for the first two months: a language class in the morning and a thematic course after lunch." Her program included guided academic excursions the Morocco-Spain border and the Ministry of Migration Policy. After two months of formally studying the subject in a classroom, students pursue their research projects during five weeks of daily field research, with all expenses covered by the program. While all SIT students initially live with host families to encourage cultural exchange and further linguistic development, they have the option of continuing their homestays or moving elsewhere in the city or around the country as they begin their ISP research—whichever allows them to best collect data on their topic.
Regardless of previous research experience, all students said SIT properly prepared them before starting their ISP research at the end of the semester. Each program requires a research methodologies course outlining how to conduct interviews, select a topic, conduct data about human subjects, and write an academic research paper.
Studying the popularity of Sufism with Moroccan youth in her project, Katherine said her research culminated in a 37 page journal article published through SIT. Although she considered the opportunity to conduct in-depth, hands-on research invaluable, she said the most remarkable part of the process came afterwards upon seeing the reach her piece has in the academic community. "Every month I get an email from SIT with the number of downloads my paper has around the world It's been downloaded in 12 countries by over 200 people, and it's been amazing to see that this is not just a personal project…the research you do has reach."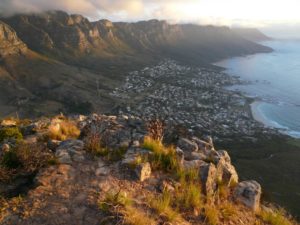 The careers pursued by each of Georgetown's SIT alumni prove that this international education opportunity invaluably strengthens a professional portfolio. Katherine recently returned to Morocco as a MENAR Fellow and will spend the next year working at a startup in Rabat that coordinates study abroad programs. After studying Migration and Transnational Identity in Morocco, Anashua worked at Political Asylum/Immigration Representation Project before accepting her current position at Amnesty International USA in the Refugee Rights Program. Arista is finishing her senior year at Georgetown, but plans to use her global health background and research experience to pursue a career in international health policy post-grad.
SIT attracts self-starters eager to delve into a topic and strengthen their research abilities. While programs focused on experiential learning are not for everyone, they can serve as invaluable opportunities for students who prioritize a hands-on and immersive study abroad experience. As Katherine said, "The opportunities SIT offered me were unparalleled—there's no other program like it. My Georgetown experience would not be complete without studying abroad."