Sarah Wingfield – Making the Most of Study Abroad Research Opportunities
Posted in News Story | Tagged Ecuador, LOERI, Quito, study abroad research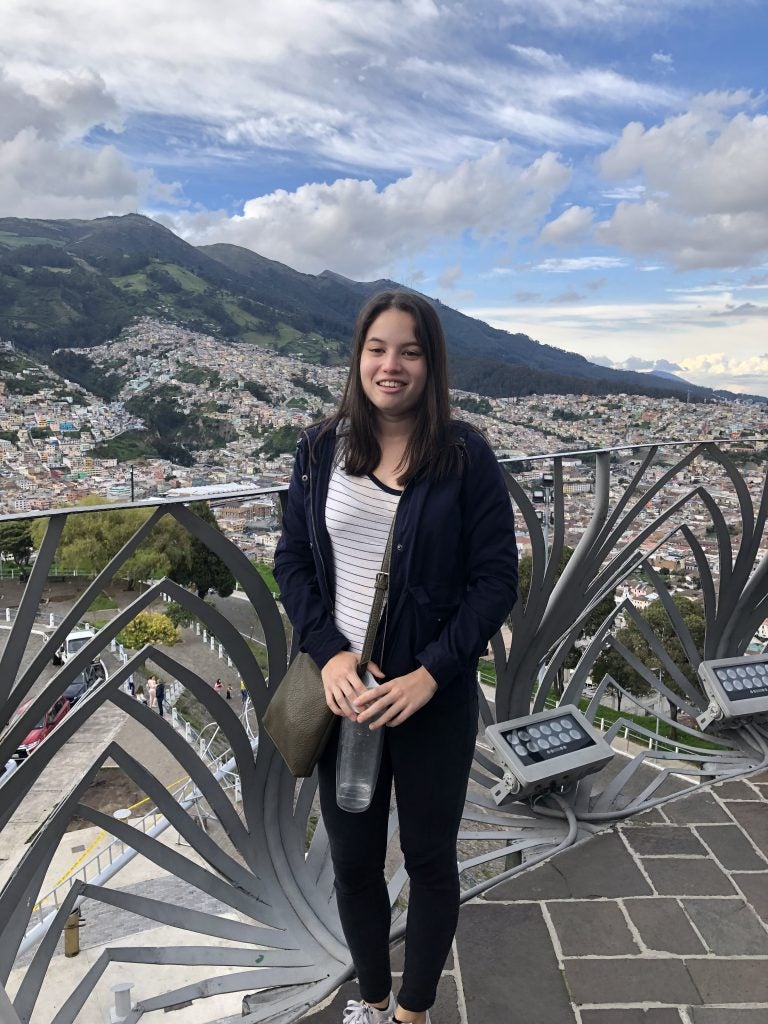 Studying abroad presents students with many unique academic, professional, and social opportunities, including the chance to perform academic research on topics within their individual interests. And, as shown by one Georgetown senior, this research can go on to have bigger impacts on the academic community and present further professional opportunities for students.
Sarah Wingfield, a current senior in the SFS, spent Fall 2019 at Universidad San Francisco de Quito. During her time in Quito, Sarah was selected to participate in a competitive research opportunity with LOERI. Her final product, "Challenges to Water Management in Ecuador: Legal Authorization, Quality Parameters, and Socio-Political Responses", was recently published in the academic journal Water.
USFQ's LOERI program is an opportunity to which program applicants can apply for conducting specialized research projects. Students collaborate with USFQ professors to formulate and carry out research in their field of study. They may also work alongside local professionals and, like Sarah, they may have the chance to publish their findings in academic journals. In the process, participants deeply immerse themselves in local culture and issues, broadening their understanding of their host country. 
"This has been an amazing opportunity for my academic and personal career and I will always be grateful to USFQ/Georgetown study abroad for offering it to me."

Sarah Wingfield
Georgetown's program at USFQ is a direct matriculation model, so students are able to interact with both local peers and other students who are studying abroad. This type of model also allows students to take advantage of the diverse array of opportunities offered to them, such as the one that Sarah took part in.
"Choosing to study abroad in the OGE's direct matriculation program/LOERI at USFQ allowed me to explore in-depth many of the themes and areas of study within my STIA major, particularly for ecological and water-specific studies. The courses at the university in Quito offered an incredible opportunity to study the principles of biology, ecology, and other related sciences in the context of Ecuador's unique environment.

The program also put me into long-term contact with three professors who co-authored the paper with me (Andrés Martínez Moscoso, Valeria Ochoa-Herrera, and Diego Quiroga) and will allow me to demonstrate my expertise in water studies as I begin a career in the field. This is an incredibly valuable opportunity that I would not have not had access to in the United States; publishing under my name is a once-in-a-lifetime chance for an undergraduate, especially here in the US."

Sarah
However, you don't have to be in a direct matriculation to perform advanced research in your host country. For example, SIT programs have a research requirement for students, and many SIT alumni have successfully submitted their research to be published in academic journals.
Though study abroad is a great tool for learning about other cultures and making connections with people across the world, it can also be a way to build your resume and further your academic or professional career. Remember to take advantage of all the opportunities Georgetown has to offer, especially while you're abroad!