Program Spotlight: Georgetown at Villa le Balze
Posted in News Story | Tagged featured program, Italy, news, summer, villa le balze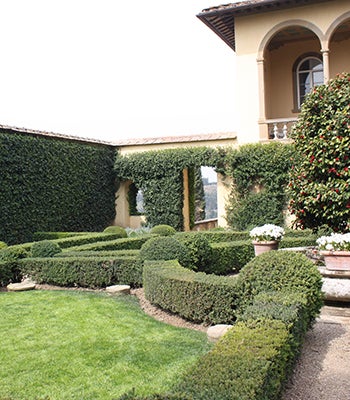 After a hiatus onset by the COVID-19 pandemic, Georgetown resumed summer study abroad programming at the Villa Le Balze study center in Fiesole, Italy. Sixty-one undergraduate students took advantage of this renewed opportunity and spent two to six weeks abroad at Georgetown's Villa this summer, taking courses in a variety of disciplines. Students took these courses in a new country and culture, while also having the freedom to explore and learn in a new environment. Because the Villa is affiliated with Georgetown University, all courses taken by students at this site are Georgetown credits. With various course offerings ranging from topics such as biology to international journalism, Georgetown's program at the Villa has a curriculum for varying academic interests.
Students and faculty expressed their excitement to be returning to the Villa this summer and were thrilled to share details about their experience abroad. "It is very rare that you get to physically see the art, architecture, and geography that you study in class. Being able to study at the Villa was such a unique experience because it gave us an opportunity to truly understand the context and times that Machiavelli was writing in. It was an amazing experience to be immersed in Italian culture in such a vibrant city like Florence," said Celine Park (SFS '25), a student who participated in the Machiavelli Seminar program.
One of the Villa's programs, International Journalism: Reporting from Florence, made its debut this summer, and students were able to immerse themselves in Italian media and journalism, doing on-the-ground reporting while also having lectures in the Villa's gardens. "I really enjoyed the class–the mix of on-the-street interviews and seminar-style instruction was a great one for me and I feel like I learned a lot. Not only was I taking journalism, but I had also been taking Italian the previous semester and this class allowed me to get technical instruction at the same time I was getting immersive language learning. The Villa was really neat, but honestly my adventures in the city itself were much more rewarding, so it's great that the Villa is so close to the city and that, for our class, we got to stay in a student hotel that was actually in the city," remarked Graham Krewinghaus (COL '25), who took part in this brand new Villa offering.
This summer, the Villa le Balze program featured three new courses: A Microscopic View of Tuscany, Educating Young Children with Disabilities – A Global Comparison, and International Journalism: Reporting from Florence. Though they are very distinct from one another, each of these courses featured on-site experiential learning and drew connections to Italy as the host location. Due to Italy being a major hub for wine and cheese production, A Microscopic View of Tuscany explores the science behind this industry. Educating Young Children with Disabilities – A Global Comparison offers a unique perspective behind education justice that is offered in Italy and compares it with other education models. Lastly, International Journalism: Reporting from Florence serves to provide a global lens to the field of journalism in which students are able to interact with Italian locals.
Professor Toby Long, new to teaching at the Villa this summer, was excited to get the opportunity to teach her course Educating Young Children with Disabilities – A Global Comparison for the first time this summer through this study abroad program. "I was thrilled to teach at the Villa. I proposed my course just before the pandemic so we were waiting two years to get it up and running. It was really a wonderful experience, not only being with the students for such a concentrated time but also being in such a beautiful environment!" Needless to say, the return of programming at Villa Le Balze was beneficial to the learning and teaching experience of both students and professors.
To learn more about Villa Le Balze undergraduate programs, please visit here.