All in a Semester's Work: Global Internships and Study Abroad
Posted in News Story
Students go abroad for a simple reason: to pursue opportunities unavailable to them at their home institutions. With 57% of Hoyas studying abroad, Georgetown is no exception. Many Hoyas check a Hill internship off their Georgetown bucket list, but how many can say they worked in the House of Commons two weeks after Brexit? Language students flock to Lau each weeknight to finish their French homework, but will they ever have the opportunity to translate grants empowering women and girls in Morocco? Many Hoyas declare minors in Education, Inquiry, and Justice, but how many can say they taught a class of German high school students about American history?
Study abroad programs offering students these kinds of professional opportunities are on the rise. And rightly so—in an increasingly interconnected world, the experience of interning abroad makes students more competitive in the global economy.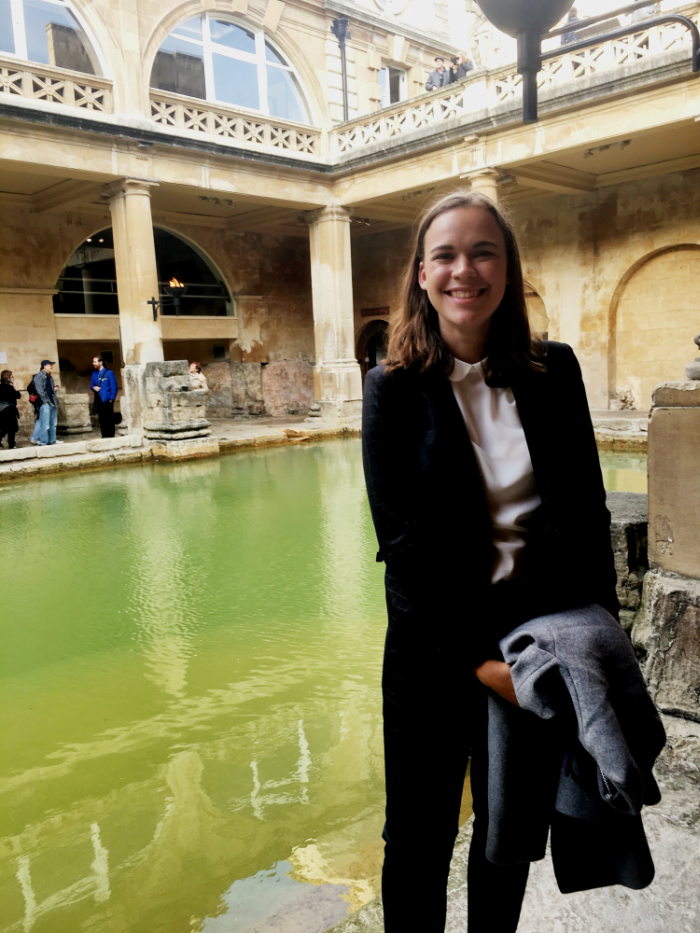 Mayze Teitler (COL '18), a self-proclaimed political junkie, studied abroad in Bath, England in the fall of her junior year. The Advanced Studies in England (new window) program connected her with an internship at the Constituency Office of Ben Howlett, a member of parliament in the Bath's House of Commons. With the UK's impending break with the European Union as a backdrop, Mayze assisted in administrative tasks ranging from writing statements, drafting press releases, and chatting with constituents. "I've interned on the Hill for three years while at Georgetown, so it was really valuable to see how the dynamics of political work change in other countries," Mayze remarked. "In England, the government is smaller and less of a machine, so I was given more responsibilities as an intern than I have on the Hill."
In addition to taking three classes, Mayze interned to earn a total of sixteen academic credits. At the semester's conclusion, she submitted a dissertation corresponding to the work she did in her internship. An academic thesis advisor meets with each student throughout the semester and eases the process of researching, drafting, and editing the dissertation. Upon returning to Georgetown, The Undergraduate Law Review published Mayze's dissertation—Brexit & International Criminal Law: Entering Uncharted Waters—and she used it as a writing sample for graduate school applications.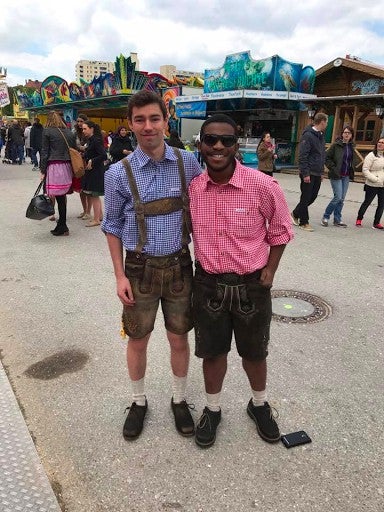 While some programs offer their own internships, other Hoyas seek out these opportunities independently. For example, Desmond Ferrell (SFS '18) worked as a teaching assistant at a local high school during his semester at Language and Area Studies in Freiburg, Germany (IES) (new window). Desmond taught variety of subjects ranging from English to politics, with half of his lessons in English and the other half in German. "Teachers were always asking me to come in and help with their classes and take on individual lessons, and they would help me plan out what I wanted to cover. But that's where they stopped. Whenever I taught a lesson, it was just me."
While Desmond admits that this made him a bit nervous at first, he was surprised at how naturally teaching came to him—so much so that he will begin a Masters in German at the University of Missouri Columbia on a full scholarship this fall. His experience in Germany made him realize he wanted to continue studying German rather than Political Science with aspirations to teach German at the college level. "[Interning abroad] helped me hone my professional interests and, in a way, changed the trajectory of my whole life."
Cameron Hull (COL '18) completed an internship that allowed her to use both her English and French skills. During her semester at Study in Rabat (IES) (new window), Cameron interned at La Fédération de la Ligue Démocratique des Droits des Femmes (FLDDF). FLDDF is an non-profit organization that advocates for greater funding for programs that promotes anti-violence against women and girls. As the only English speaker in the office, Cameron translated grants—FLDDF's main source of funding—from French to English.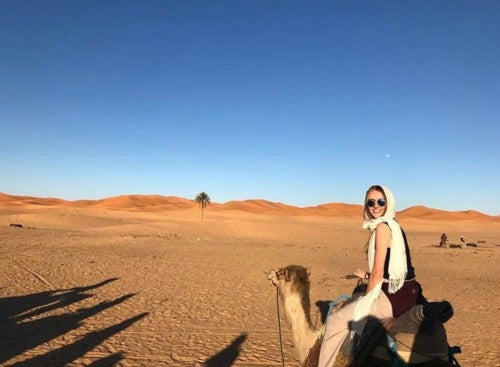 "Sometimes grants were already written and I would translate them into English in order to submit them, or I would apply for new grants using information from old ones, translating that into English as well. It made me realize how little access there is to a lot of funding because of language constraints. Typically the instructions on how to apply and the applications themselves are only in English, so they're really not accessible."
Cameron does not know exactly what professional opportunities she plans to pursue after graduation, but she considers her internship an invaluable experience. "It definitely helps to be able to say 'listen, I saw this in person, I saw the ways this works' since these are issues I study in coursework and that I have been reading about back in the United States."
Aside from the professional benefits of interning abroad, all three students cite a deeper connection to the host culture as a product of their internship—whether that be through a greater mastery of the language or through the people they met. Mayze echoed this sentiment: "I found that there's a tendency to isolate yourself with only American students, so my internship was a built-in way to meet other British interns and co-workers." Today Mayze continues to stay in contact with people she met in Bath and knows they are valuable connections should she desire to work abroad in the future. "I'm Facebook friends with a Member of Parliament's Chief of Staff," Mayze shared. "I mean, how cool is that?"
---
Want to learn more about interning abroad? Check out Tiffany Kassidis' #TakeoverTuesday video, where she talks about her internship at a Sydney-based start-up!