Full Swede Ahead: Living and Learning in Stockholm
Posted in News Story
For decades, Hoyas have been studying abroad with DIS at the program's main location in Copenhagen. DIS has been extremely popular with Hoyas of all majors due to its unique combination of diverse course offerings and experiential learning opportunities. And now, because of the popularity of this program, DIS has opened a new "campus" in Stockholm! Over the past few semesters, Hoyas have discovered the new DIS location. Joey Kim (COL '18), a psychology major and now an OGE Peer Advisor (new window), studied in Stockholm in Spring 2017. Maggie McDermott (COL '19), a biology major and psychology minor, is finishing up her semester in Stockholm this fall.
Known for their experiential learning model, DIS was established in 1959 to provide undergraduate students from North American universities a study abroad opportunity in Denmark.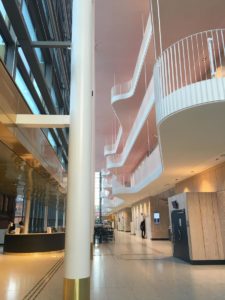 In the fall of 2016, DIS expanded to Stockholm, Sweden, and found its home in the newly constructed building of the Royal College of Music. DIS Stockholm employs faculty who are professionals in the subjects they teach, and offer hands-on learning cultural immersion opportunities in Stockholm and course-integrated Study Tours (new window) across Europe.
What makes DIS Stockholm (new window) unique? Because of its small size – 86-100 students – the DIS Stockholm program is more intimate than its counterpart in Copenhagen. This allows for a nurturing environment, immersing students into the local language and culture without being directly matriculated in a Swedish university. According to Maggie, having the Stockholm program share space with the Royal College of Music allows for unique student engagement opportunities and encourages students to "blend in and be a part of the Swedish culture as [they] literally go to school and share a cafeteria with these students."
Another benefit of this relationship is proximity to faculty who can offer unique electives in the field of music – such as a class on Swedish Pop Music! DIS students are often invited to concerts at the Royal College of Music and are encouraged to interact with other local college students as well. Maggie can be found running to Djurgården between classes, while Joey fondly recalls training with the Swedish National Lacrosse team as an extracurricular commitment throughout his semester abroad.
The Swedish Classroom
Classes at DIS Stockholm can be as small as five students. They are casual and discussion-based, which fosters collaborative dynamics and a mutually-supportive and trusting learning environment. DIS faculty and students interact on a first name basis and bounce ideas off each other, emphasizing the Scandinavian concept that teachers and students can learn equally from each other. DIS faculty are all very accessible to the students. Joey and Maggie explain that they are happy to talk with students over a cup of coffee outside the classroom.
Hoyas at DIS Stockholm are enrolled in a core course (new window) related to their Georgetown major/minor, a Swedish language and culture course, and three electives. The Stockholm program offers eight academic disciplines and most overlap with programs offered in Copenhagen. The differences lie in the core courses and their content, as well as highlighting unique aspects of Swedish culture.
For example, as one of the most progressive and gender-equal countries in the world, Sweden embraces affirmative action policies, a "gender-responsive" national budget, and a firm commitment to LGBTQ rights. As a result, Sweden inherently is a quality living classroom for the Gender Studies core course, a space where students are encouraged to discuss Sweden's feminist government, the gender neutral pronoun, and even the way that children toys stores are not divided by gender.
Maggie's core course, Translational Medicine: From Bench to Bedside, took the class to England for their study tour. The class spent time on a couple different campuses engaging in lectures by prominent scholars and researchers in relevant areas such as rheumatology, diabetes, and asthma. They also had the opportunity to hear from a patient with lupus, helping students understand the disease and how to connect with patients.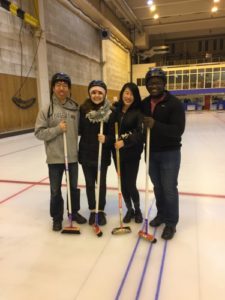 Joey's core course was Positive Psychology (new window), which "critically examines the psychology of well-being with both its possibilities and limitations." Sweden, annually ranked as one of the happiest countries in the world, is a living laboratory for studying the positive traits of human psychology. He also loved the opportunity to take elective classes in topics not typically offered at Georgetown.
Another unique aspect to the academics at DIS is that all of the courses alternate offering Wednesday field studies. With influence of the local "pioneer mentality," field studies provoke students to think critically and creatively in a supportive, intimate environment. Depending on the class subject, field studies take a variety of forms, varying from touring the Royal Palace to performing sutures in a hospital. One Wednesday, Maggie's Psychology of Emerging Adulthood class sat down to have fika, the Swedish concept of enjoying a cup of coffee and pastries in the afternoon. Because of the small class size, the five of them were able to converse with their professor about their aspirations and future ambitions; this provided a relaxing setting to connect the dots between their own lives and the class topic of the transition between adolescence to adulthood.
Beyond the Classroom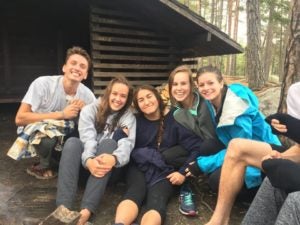 Both Joey and Maggie have been avid participants in the 18-person Outdoor Living and Learning Community (new window). In addition to being an urban environment known for its centuries-old architecture, music, art, fashion and technological innovations, Stockholm is also close to nature. Built on 14 islands between Lake Mälaren and the Baltic Sea, Stockholm offers easy access to forests, lakes, and national parks. The city and its surrounding area provide tremendous opportunities for fresh air and exciting outdoor activities that are only a bus ride away. Residents of the Outdoor LLC truly leverage Stockholm's natural setting and participate in an outdoor activity every Tuesday, such as hiking or kayaking. Through these experiences, the LLC creates a close-knit community and fosters long-lasting friendships. One of Maggie's favorite memories is camping in Tyresö, about half an hour south of Stockholm. She also went caving for the first time. Maggie describes her caving experience as "terrifying [at first] but fun." Under the guidance of a special caving instructor, she crawled through narrow openings between mountains and rocks.
Ultimately, Joey and Maggie agree that the friendships they cultivated in the LLC made their housing experiences particularly special. For Joey, his RA, Nico, made an impact on him during his time in Stockholm and has become one of his lifelong friends. Taking full advantage of Stockholm's well-connected public transit system and the transportation pass provided by DIS, Maggie and her peers have gone biking on an island full of cycling paths and swimming in a river, activities that Maggie says she "might not have the chance to do at Georgetown." Moreover, Joey and Maggie have both taken advantage of DIS' Visiting Host Program (new window) to experience the local culture first-hand and practice their Swedish language. Visiting hosts often invite students to their homes for dinner, birthday parties or other family activities.
One of the highlights of their Georgetown experiences, Joey said that his time in Stockholm was "transformative and fun," while Maggie calls it "exciting, surprising, and reflective." From unique courses taught by practitioners to an intimate environment and easy access to nature, DIS Stockholm allows students to participate in the local culture while pursuing their academic aspirations. Recalling all of his fond memories from his semester abroad, Joey states "I can't wait to go back to Stock[home]."