[A]broadening Horizons: Alex Villec
Posted in News Story
Hoya alum Alex Villec's international career path post-study abroad
"More than anything, [study abroad] was a pivotal choice that has everything to do with the steps I've taken off the Hilltop since graduating four years ago." An Economics major and French minor at Georgetown University, Alex Villec (COL '13) participated in Language and Culture in Dakar, Senegal (CIEE) (new window) in the Fall of 2011, which has continued to influence the course of his life years after leaving the Hilltop. Since graduating from Georgetown, Villec has gone on to work for the BOMA project in Kenya, One Acre Fund in Rwanda, and has recently started his Fulbright teaching English to children in Taiwan.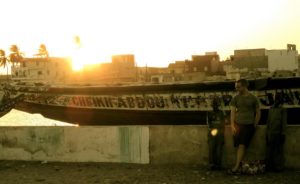 When choosing where to study abroad, Villec knew that his keen interest in the French language would be the ultimate deciding factor, but also knew that he wanted a new experience after having done summer programs in France. CIEE's Dakar program met all of his needs and an interest in Africa slowly began to spark in Villec. While in Dakar, he had the chance to study international security and development, which permanently shifted the trajectory of his economics degree. A CIEE sponsored internship at Zidisha, a microfinance and lending organization in Senegal, exposed Villec to to a more humanitarian side of his degree as he saw the type of work many African communities needed and realized his passion for community development. Zidisha works to expand local business ventures through lending credit, and the work Villec did while abroad provided him with an opportunity to see how he could use his degree to aid developing communities and provide infrastructure in places which need it most.
After returning to the hilltop in the spring of 2012, the Tucson native connected with professor Billy Jack who was just starting the Georgetown University Initiative on Innovation, Development and Evaluation (GUIDE) program and was looking for students to help with research and data cleaning for a Nairobi based project. Villec took this as his chance to go back to Africa and continue working in community development. With funding from Georgetown Undergraduate Research Opportunities Program (GUROP), Villec returned to Africa in 2012, the summer after his junior year.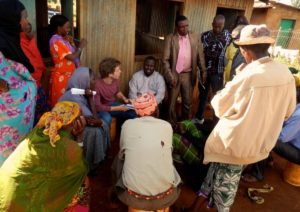 During his summer back in Africa, Villec met members of Princeton in Africa (PiAF), a fellowship program dedicated to connecting postgrads with development organizations in Africa. Through his interactions with some of the participants, Villec decided to apply. After committing to Princeton in Africa upon his graduation in 2013, Villec was placed with the BOMA project in Kenya. The BOMA project is a U.S. nonprofit and Kenyan NGO with a transformative approach to alleviating poverty and building resilience in the drylands of Africa. Reflecting on his experience, Villec credits his internship at Zidisha during his time studying abroad for his position at the BOMA project. Villec explains the catch-22 for many employment opportunities, both within Africa and outside, is that companies are looking for people both fresh out of college and with relevant work experience, meaning that his study abroad experience gave him an advantage over others applying to fellowships in Africa.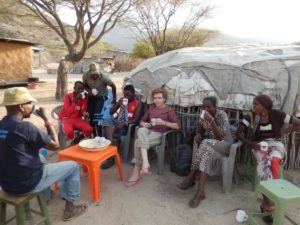 Following the BOMA project, Villec moved to Rwanda to pursue working for the One Acre Fund, an agricultural development agency which gives credit to farmers to buy new seed before the start of the rainy season. Villec saw this organization as the gold standard of working in Africa and joining this agency as the realization of his dreams, which made his choice to leave a year later all the tougher. Villec was comfortable in Rwanda, with a strong ex-pat and Princeton in Africa community, but he lacked the language component, which he has been passionate about and which had sparked his original desire to study and live abroad. From getting more involved in development agencies, Villec had lost his initial motivator and after a vacation to Hong Kong and Vietnam with a friend, he decided to pivot his life path one more time. The new focus: teaching English to primary school children in Taiwan.
Currently, Villec lives in Taiwan and is completing his Fulbright Fellowship. While back at home in Arizona, awaiting his visa for Taiwan, Villec was studying for the GRE in a local library when he overheard two people speaking Kirundi, a mutually intelligible language with Kinyarwanda, the official language of Rwanda and a language of which Villec had learned parts of from his time living there. He struck up conversation with the two men and discovered they were Burundi refugees new to Arizona. While Villec continues to miss Rwanda, this interaction showed him a that there are people to meet everywhere he goes and the world is slowly getting smaller and smaller.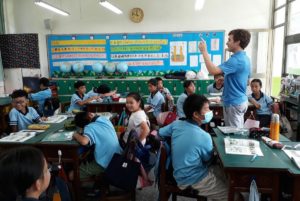 In the words of Villec, no matter how you imagine your life, in one year, in five years, in ten years, going abroad will have enriched that in some way. Studying and living abroad allows you to meet new people, forces you to think on your feet, and completely changes the way you approach problems. Concluding sentimentally of his time in Dakar, Villec expressed, "In a way no previous experience had, study abroad led me to grapple with the broad spectrum of ideas and perspectives that exists beyond our borders. Daily life in a different country demands a reassessment of values and opinions – strengthening some and challenging others – and study abroad sets this process in motion."