Justice Sociale: Georgetown Students Learn About Social Justice Issues in France
Posted in News Story | Tagged Lyon, Social Justice, Strasbourg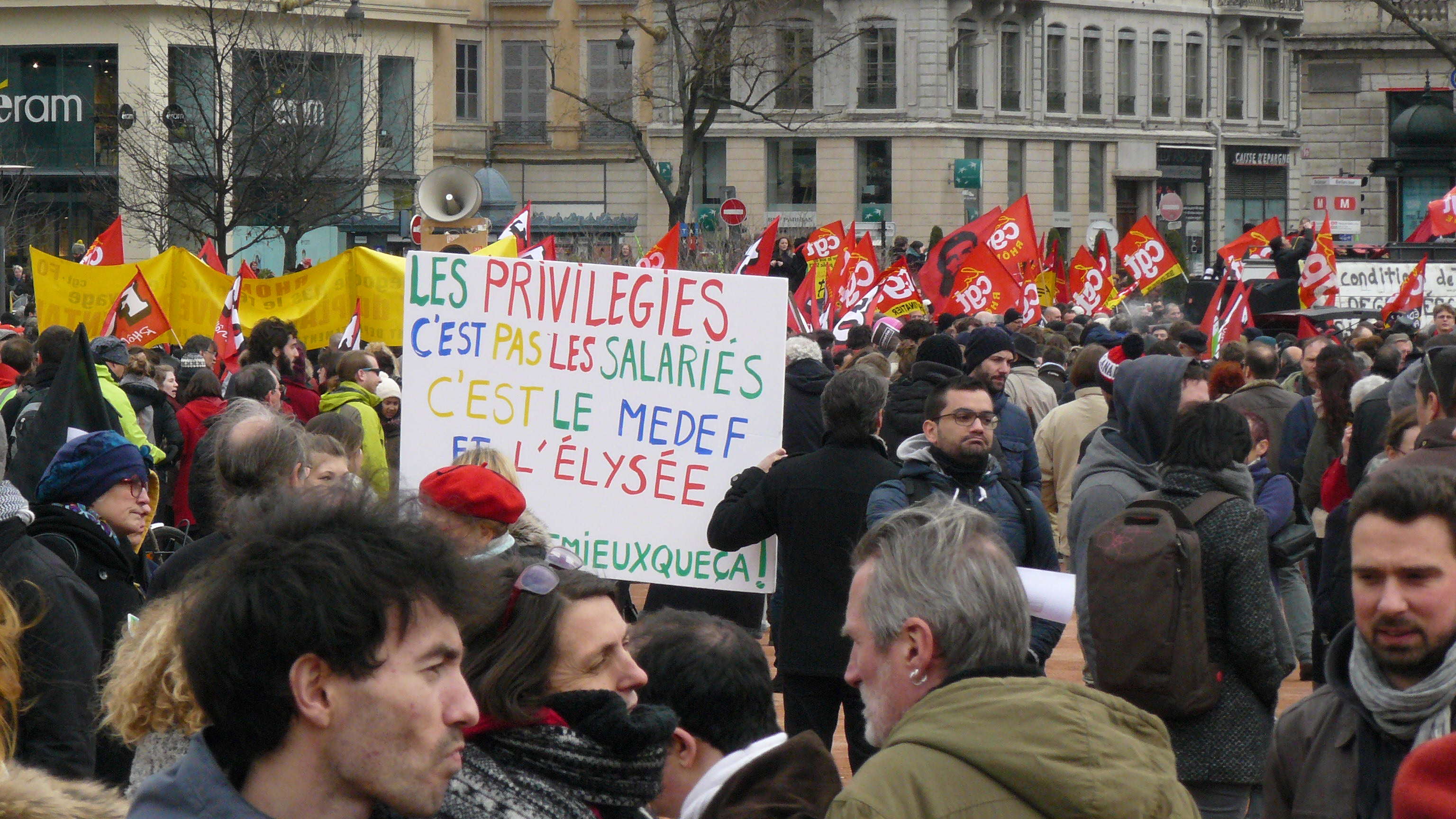 Georgetown students participating in study abroad programs in Strasbourg and Lyon enroll in unique courses focused on social justice from a French perspective. Students explore different types of social inequalities in France – gender, racial, economic, and spatial – which are paralleled in societies across the world. These courses provide a unique context in which to study systemic issues while helping Georgetown students navigate the local university setting and providing a key connection to Georgetown's Jesuit values.
Georgetown University's undergraduate study abroad programs in France have long followed a direct matriculation model. Direct matriculation challenges students to navigate the host country's educational system: from classroom culture, to grading systems, to etiquette with peers and professors. When most students choose to study abroad in France, they will have learned about French culture, studied the language, and participated in a pre-departure orientation. Even with this preparation, according to Office of Global Education Assistant Director of Curriculum Integration and Assessment Dr. Jason Sanderson, a common reflection of professors and faculty was that students would have benefitted from a stronger understanding of French current and historical social justice issues. Dr. Sanderson, who advises students studying in France during the semester or year, notes that in French classrooms, this context is essential for navigating classroom conversations and getting the most out of direct matriculation seminars.
In two program sites, Georgetown University's on-site coordinators Valérie Pelazzo Plat (Lyon) and Susan Witkowski (Strasbourg) have worked with faculty at French universities to give Georgetown's Office of Global Education a platform to develop coursework focused on social justice in France. Valérie and Susan serve as Georgetown's liaisons with the local universities and also provide non-academic support to students while they are abroad in Lyon and Strasbourg. Their work is instrumental in not only helping students navigate the local cultural and academic setting, but also in cultivating innovative practices, including social justice coursework.
More than just the basics
The French social justice courses – offered to Georgetown University students studying in Strasbourg or Lyon during both the fall and spring semesters – provide important context for understanding French culture, prepare students for success in the local classroom, and provide a key connection to themes of social justice, the common good, and community that are clearly articulated in Georgetown's core values and Jesuit identity.
Dan Garrastazu (SFS'21) took the course in Strasbourg in Spring 2019. Dan emphasizes the value these courses offer in giving students a space to further develop their French skills and to learn more than just the topics on the syllabus:
"I would say that this course provided a good view into the French classroom setting. Our professor was interested in us engaging with the topics, having us return to class to give a presentation and have a discussion each week. We were a smaller class, so this process took a very organic nature, and it encouraged us to do more digging and become more familiar with the different subjects regarding social justice in France."
Professor Adam Roberts teaches "Inégalités et justice social" in Strasbourg, France, where this course has been offered since 2016. The class's small size stimulates deep discussions in a comfortable environment, enabling students to identify connections and similarities between social justice issues in different parts of the world. Professor Roberts shares that in the class, students are exposed to a wide variety of issues and that are particularly important in modern French society including racial tensions and social exclusion.
These discussions are clearly dynamic as news and current events shape the conversation:
"The students visiting in early 2020 arrived in Strasbourg just before local elections for the city government. This provided us with an excellent opportunity to compare the social policies of the various candidates for Mayor of Strasbourg. It has been a particularly interesting period, and Strasbourg recently elected its first Green Party Mayor, Jeanne Barseghian. The local Green Party's manifesto included some interesting measures aimed at combating inequality and promoting social justice, and we were able to discuss these in class."
In spring 2020 in particular, students were evacuated from study abroad during the global COVID-19 pandemic, leading to new and reflection discussions in the class. Professor Roberts notes:
"Given that the course in 2020 took place mostly on line during the Covid19 pandemic, we had extensive conversations about how the crisis had exacerbated social inequality. We had many discussions about inequality in the education system, and on poverty and social exclusion."
Dan, the student who studied in Strasbourg, reflects on the fact that students enrolled in the course were encouraged to research and present on topics and themes that most interested them:
"Immigration was a subject I was particularly looking forward to in this course, and as such, the most interesting topic we covered. I did a presentation that built upon what we had learned in class, and in that research, I learned much about the history of immigration within France, along with the racism that accompanied immigrant's arrival. Through that research, I also learned a lot about the situation of unaccompanied minors, data on discrimination that immigrants faced, as well as different organizations that sought to improve their situation."
In Lyon, the course "Justice social en France" is relatively new, as it was launched in Fall 2019. This course is taught by a team of four professors – one who teaches French language, and three specializing in different areas of social justice. The course's syllabus was built around previously existing French syllabi used to educate French students about social justice issues in their own country.
We asked Claire Chretien, the Lyon professor who teaches the French language portion of the class, to provide her perspectives on the successfulness and future of the course. Professor Chretien, who also wrote an article about this course with respect to the lockdown in March, says that a popular discussion topic in her class last fall was the nature of demonstrations in France:
Lyon2 is a university well known for its protesting character, though it has been known to be crippled by protesters, hindering the holding of classes every time something related to social injustice occurs. I think it was a great experience for the American students in Fall 2019. Students coming the following spring arrived with an expectation to understand why France tends to demonstrate and protest. Students were not disappointed with a lack of material that year, as the old president Jacques Chirac died and the yellow jackets movement started! The aim of my weekly class was to help the students understand the present – and very often to do that, we had to go back into the past. For example, we had discussions about the origin of striking in France, what the big demonstrations in France were and what they were defending, and what sparked the yellow jackets protests.
Professor Chretien has high hopes to grown the program in the future:
This course should have the objective of explaining to students the real situation in France, which can be in some cases quite different from social justice issues in the US. I would like different components of this course to aim to decipher current affairs by resorting to the past rather than using a purely chronological approach. Additionally, A discussion I had with the students prompted an idea I had to grow the program: including a section about climate change. As of now, the curriculum does not include this essential and often cross-cutting theme. I have been reflecting on including other themes as well, such as liberties and religion.
Making connections beyond the classroom
OGE's Dr. Sanderson notes that when creating these courses, Georgetown's Jesuit values were a huge motivation in choosing the subject matter. The Center for Social Justice and the Justice and Peace Studies Department were both consulted in forming the curricula. Focusing on social justice gives professors a wide umbrella under which to direct their classes, and there are many cross-cutting themes within the realm of social justice. Fighting social injustice at home and abroad exemplifies Georgetown's commitment to the Jesuit values of justice education and action, and these courses give students abroad the opportunity to engage in Georgetown's Jesuit values through the lens of another country.
Beyond simply educating students about social justice in France, these courses help to provide students the language and cultural skills to meet locals and find hobbies within the community to help develop their connection to French culture. They are curated to get students interested in what is happening in their host city and encourage them to explore and get involved. OGE and its partners in Lyon and Strasbourg plan to grow these programs, incorporating out-of-classroom experiences for a more comprehensive cultural learning experience.
Social justice courses are helpful in teaching Georgetown students to navigate a local French classroom setting, and they also provide a method of framing social justice in French culture while making connections to Georgetown and the United States.