Introducing the OGE Peer Advisors
Posted in News Story
What is a peer advisor?
Peer advisors are students who went abroad and now work in the Office of Global Education (OGE) as a resource for students planning to study abroad. Peer advisors can help in several ways, sharing their own experiences to help you decide where to study abroad, what kind of housing to choose, or which term to go. They can also help you with the application process as you form a competitive application to your desired program.
You can get in touch with a peer advisor by attending a Study Abroad 101 event or emailing your questions to globaleducation@georgetown.edu, where a peer advisor can help over email or set up a zoom drop in with you. You may also contact us to request a study abroad presentation for your student organization or group.
This year, we have two new peer advisors to help answer any questions you may have about study abroad.
Angelika Osiniak
Year: Senior
Class: SFS '21
Major: International Politics; Certificate: CERES
Study Abroad: Barcelona, Summer 2019; Poland, Fall 2019
Angelika is Polish, but she has never lived in Poland for an extended period of time. For this reason, she decided to spend a semester in Poland in order to learn more about her own culture.
In November, we went to a soccer match between Poland and Slovenia at the national stadium. Getting the tickets was a hassle, but it was definitely worth the trouble. We were sitting just to the right of one of the goals, a few rows back, so we had a great view of the game. I watched my favorite player score a goal right in front of me! Poland won the match 3-2, and I could feel the energy from the crowd pulsing in the stadium – it was electric. The metro was closed, so we had to walk the mile back to our dorms. People were cheering and singing in the streets, full of national pride. In that moment, I felt so incredibly connected to Poland and the people there, and experienced a real sense of national community.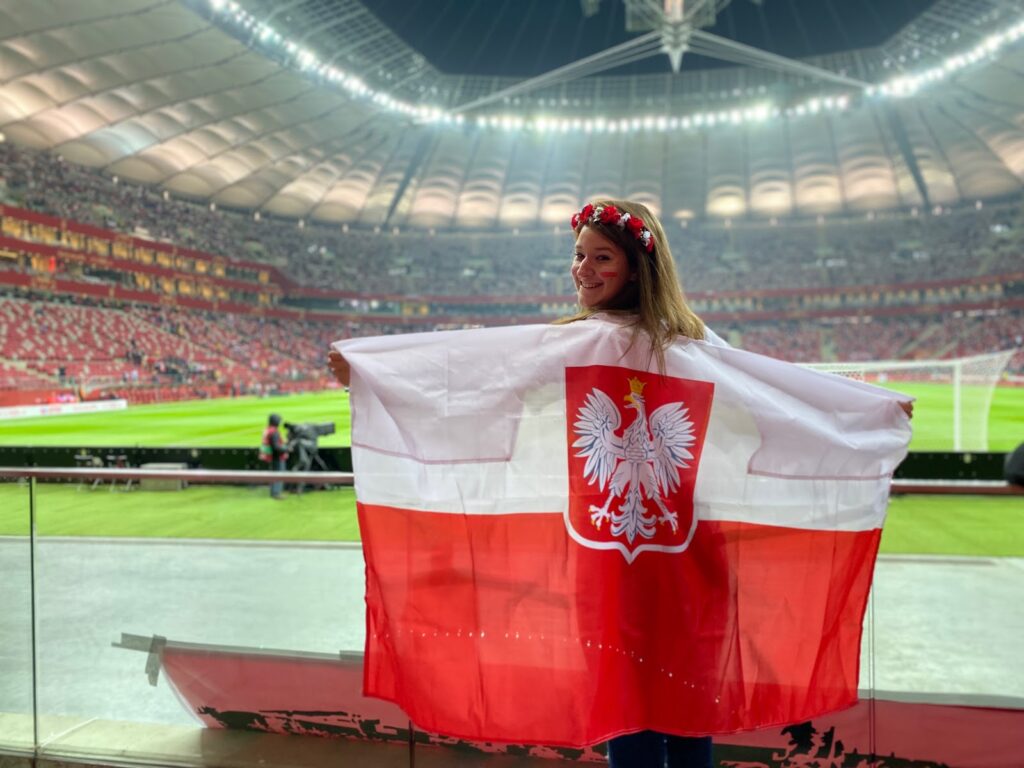 Jenny Xu
Year: Senior
Class: COL '21
Major: Government; Minors: History and Art
Jenny studied at Villa le Balze in Florence, Italy in the Spring of 2020. Though her semester was cut short, she was still able to learn a lot about herself and the place she was in.
Leading up to my semester abroad, I was hesitant to spend so much time away from Georgetown; I had always been a person of routine, unwilling to go too far out of my comfort zone. In my first few weeks, I had some amazing times exploring Florence with my classmates, but I never felt confident enough to experience it by myself. One day, I decided that it was time to suck it up and go into the city alone; I wanted to take in the art and ambiance without any distractions. So I took myself out on a date! I got dressed up, took the 7 bus down to the city, and went to the Uffizi Gallery to see my favorite work of art, Botticelli's Birth of Venus. Afterwards, I went to Caffe Rivoire, ordered a cappuccino, and people-watched by Piazza della Signoria, focusing on being comfortable with sitting alone. That feeling of serenity and confidence is something I've been able to take with me beyond that day, but I'm happy to say that I found it in Florence.