Coronavirus Research in Buenos Aires Led by GU Partner
Posted in News Story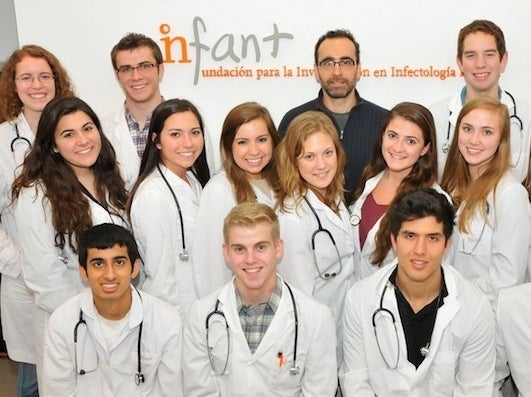 On the syllabus for the Translational Health Internship, Georgetown's six-week summer study abroad program in Buenos Aires, Argentina, students are met with the following statement:
"In an increasingly interconnected world, global health challenges can only be met when scientific collaborations also cross borders."
The program was born, 13 years ago, out of such a collaboration.
The Translational Health Internship is a decade old study abroad program that revolves around the partnership between Georgetown and INFANT, a leading respiratory disease research organization headquartered in Buenos Aires. INFANT was founded by Dr. Fernando Polack, who previously worked with Georgetown's Dr. Pablo Irusta at Johns Hopkins University's Bloomberg School of Public Health. When Dr. Polack created INFANT and Dr. Irusta came to teach at Georgetown, Dr. Irusta saw how he could create a unique opportunity for Georgetown students.
"Students also in some ways contribute to the organization during their internship. Small clinics often need more staff, and the extra hands really help. Students also have gone out with vaccination teams and aided with vaccination campaigns, and some have contributed to INFANT's research agenda by bringing a new perspective to the team."

Dr. Irusta
The six-week summer program created by Dr. Irusta is unique in both its structure and its opportunities. It combines classroom learning with both laboratory and clinical experience in order to provide students with an understanding of the diseases they study. Georgetown students work side by side with prominent infectious disease researchers in the lab, and they have the opportunity to shadow caregivers in clinical settings. This comprehensive education allows students to see the clinical implications of what they study in the classroom and the lab. There are very few study abroad programs across the US in which students can engage in clinical and lab research for credit in a foreign country – for this reason, the program often attracts students from other universities, including Harvard, Vassar, and Cornell.
The COVID pandemic brings the many benefits of this program into stunning focus. INFANT's researchers have been on the front lines of the international response to COVID-19 since last spring. Doctors at INFANT have been developing plasma treatment for COVID-19 that recently reported its success. This unique experimental treatment involved taking plasma from those who had been previously recovered from the infection and distributing it to current patients. Elderly patients were shown to have a 67% recovery rate when plasma was injected within 72 hours of showing symptoms – an important discovery. Additionally, INFANT is currently partnering with the pharmaceutical companies Pfizer and BioNTech to test their COVID-19 vaccine..
OGE and Dr. Irusta are hopeful that this program will be offered next summer, and according to Dr. Irusta, the people at INFANT are excited about the future of the program as well. When the program resumes, a large part of the curriculum will likely be centered around the research INFANT has done and the achievements they have made in the fight against COVID this year. Our students will benefit from tremendous insight into the discovery that has taken place during a once-in-a-generation global scientific effort.