Peer Outreach Coordinators
Peer Outreach Coordinators are returnees who have studied abroad. They serve as experts on the process of choosing and applying to a study abroad program. They are available to give you advice on every aspect of the study abroad experience.
How to Reach a Peer Coordinator
The Peer Outreach Coordinators' individual hours are coming soon! You can also contact them via email at globaleducation@georgetown.edu or meet them at upcoming Study Abroad 101 events.
Emma White, COL '20
Emma White is a senior in the College majoring in Spanish and minoring in Education, Inquiry and Justice. She studied abroad last spring with School for International Training's Comparative Education and Social Change program. The program was based in Santiago, Chile, but also included stints in a few other cities including Valparaíso, Chile and Buenos Aires, Argentina.
While in South America, Emma completed an independent study project comparing university student political engagement in Santiago and in Buenos Aires. She really appreciated the community engagement that this project facilitated and particularly enjoyed her conversations with informed students about their political views. When she wasn't in class, she met locals through pick-up soccer, where she made some of her best memories abroad.
She believes that international education can be transformative and would love to be a resource for any students considering spending time abroad.
Luke Sekowski, SFS '20
Luke Sekowski is a Senior in the Walsh School of Foreign Service studying International Politics with minors in French and Russian. He studied abroad during the fall of his junior year at Sciences Po Paris – Campus europeen Europe centrale et orientale in Dijon, France. Luke's academics abroad focused on the functioning of the European Union and post-communist transitions in Central Europe, Eastern Europe, and the Caucasus, as well as language courses in French and Russian. During the summer of 2019 he returned to France to work at the city hall of Saint-Omer.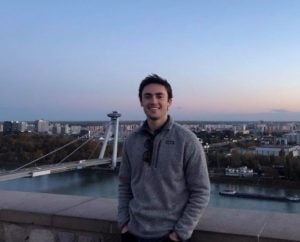 In Europe, Luke appreciated not only the opportunity to travel to nearby countries, but the ability to develop personally through exposure to new cultures, perspectives, and friendships along the way.
He believes that foreign travel is a valuable and unforgettable experience and is excited to help other Georgetown students pursue an education internationally.